At Finisterre, they know cold weather surfing isn't easy.
And they like it that way.
As cold weather surfers, Finisterre takes pride in exploring new waves.
As a company they take pride in making a wetsuit that can withstand them.
Their name, finis terra, literally means "the ends of the earth."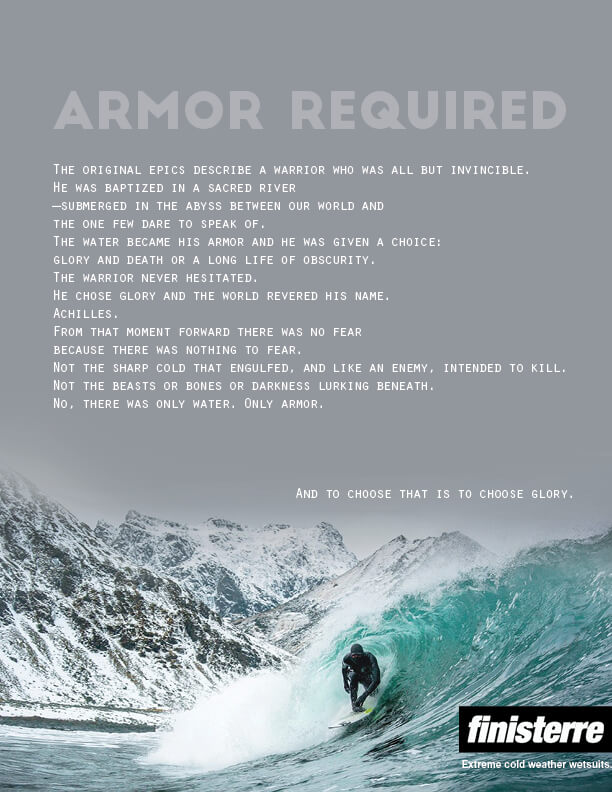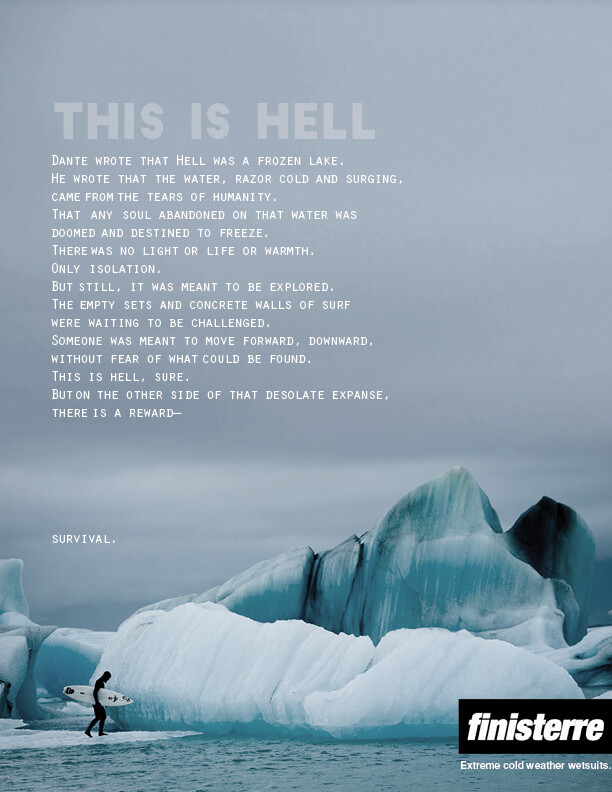 Posters
Each print also unfolds into a poster.
Website Freeze-Over
A friendly reminder to other surfers that the water out here is just fine.
Site traffic is given the option to redirect to the Finisterre website.
The Experience
A lot more than just surfing happens between when you put on your wetsuit and when you take it off.
Finisterre wants to improve the entire experience—from prepping gear to thawing out after a long session.
BEFORE
Surf Wax
Freezing water = frozen wax.
To prevent wax from hardening, cold weather surfing requires the softest wax available.
Adventure Pack
Get from land to sea with ease. Even if there's a mountain or two in between.
DURING
The Wetsuit
Designed, tested, and made for the extreme cold.
By surfers made for the extreme cold.
AFTER
Waterproof thermal shirt & whiskey wetsuits.
Warmth inside and out.
If cold weather surfers are already exploring the unknown, why not have a contest there, too?
Finisterre will provide the coordinates, but it's up to the surfers to show up.
(If they can handle the trip.)
Winner gets a great story.
Grand Prize
Winners share their stories on the Finisterre site.